February 26th, 2019
Cape Town
SheSays Cape Town
The first chapter in Africa
SheSays is the only global network for women in advertising and other creative industries.
The Cape Town chapter was launched in April 2018 by Marina Tokar, Johannie van As and Anelde Greeff. Together with a group of awesome volunteers, we run free quarterly events to provide women with the thought leadership and connections to fast-track their careers.
Read more about SheSays and the other 40+ chapters around the world, and how we help women further their careers through events, conferences, meetups and mentoring. Why? Because we want to see more women at the top.
Find us on: Facebook, Twitter & Instagram
Be the first to hear about events – sign up for our newsletter here.
Want to collaborate with us?
We are a volunteer-based organisation that relies on donations so if you'd like to host or sponsor an event or elements of an event, please get in touch via email Shesays.capetown@gmail.com. We are always looking for volunteers to help with events, PR and generally spreading the SheSays word.
Past events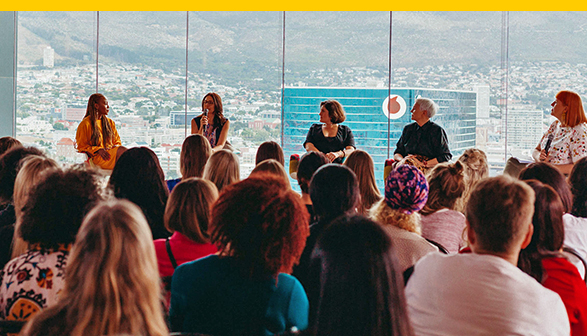 Missed an event? Here's a recap and some pictures of the events (join our Facebook group to be able to view the pictures
March 2020 – Get unstuck – How to reinvent & find your purpose. Yearning for a change? Loving your environment but not your job? We chatted reinvention: practical ideas on how to get unstuck from career challenges, finding your purpose and keeping yourself relevant in an ever-changing industry. Click here for some event pictures.
October 2019 – What if #metoo is you? #MeToo is a movement against sexual assault and harassment. Tough questions were asked, but the discussion was held in a safe space free from judgement. We also launched the first-ever gender diversity survey in South Africa's advertising and marketing sector. Click here for some pictures of the event.
August 2019 – It's okay not to be okay We focused on the relationship between mental health and the creative work environment. Check out some pictures of the night and of the goodie bags we handed out to all the women to celebrate women's month in South Africa.
May 2019 – Girls gone bad: dealing with toxic colleagues A conversation on dealing with toxic work relationships and building your tribe at the office. Click here for some pictures of the night.
April 2019 – It's our birthday month! To celebrate we took a walk with our work wives. Check out the fun we had on our #workwifewalk.
February 2019 – How to boldly go.Stories of career boldness to help you break out of your comfort zone. View some pictures of the night.
November 2018 – Do you have what it takes? Do you have the edge? Top companies share what they look for when hiring and how you can get to the top of the talent pool. Click here for some pictures of the night.
August 2018 – Day job / side hustle / what else? An in-depth discussion about what it takes to think like an entrepreneur, even if you aren't one and how to embrace your "slash" aka your side hustle. Click here to see what we got up to on the night
April 2018 launch event – Forward to the future The launch event of SheSays Cape Town, with 300 gathering to learn how to future proof their careers and the importance of resilience. Click here for some pictures of our launch event.
In the news