April 22nd, 2014
Chicago
Women in UX Recap
The Chicago SheSays chapter gathered at Grind LaSalle on Wednesday for an informative panel on "Women in UX" to meet and learn about UX from some of the city's experts in the field. Elizabeth Benker from ZS Associates, Amber Vasquez from Mightybytes, and Jennifer Chiang from FCB joined SheSays' own Jennifer Evans Lemerand to discuss why UX is important, how they practice UX, and what makes great UX.
Throughout the conversation, the panelists shared their passion for understanding human behavior, the importance of thinking about the end user, and the growing need for great UX. As Amber said, "if you don't think about the user from the get go, you aren't thinking at all in a way that is useful."
Read some of the panelists' responses below and don't forget to join us for our upcoming events.
Why Do Creative Agencies Need UX?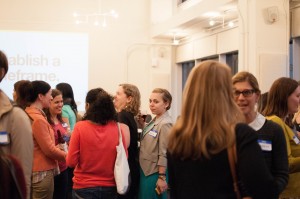 Elizabeth was quick to point out that most companies can benefit from UX, especially when you consider User Experience as a broader subject and strategy rather than a tactic. "If you aren't building or designing things that solve problems or make people's lives easier you aren't designing you are making art."
In addition, Amber noted, users have so many options – if you don't find what you need immediately, you move on. UX means you understand what the user needs and how to get there, fast. The most important thing Mightybytes does every day is ask the client, "What do your users need?"
Jennifer pointed out that User Experience is all about understanding human behavior, "we are living in a world of information; [your message] has to cut through all of that noise." Agreeing with Elizabeth's perspective that UX is more than just a web tactic, she added "UX is channel agnostic. You have to factor in everything else that is going on in that environment. [UX designers] don't care what kind of system it is. We are interested in human behavior, how you conceptualize your experience, how you plan for it, and how you process information in that experience."
How Do You Make UX a Standard Practice Early in the Process and Avoid Coming in Too Late in the Game?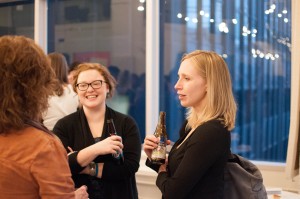 One of the benefits of a small web design firm, Amber told us, is that they are able to work UX into the process from the very beginning. When kicking off a project, instead of asking, "What do you want?" we ask, "What do your clients want?"
From Elizabeth's perspective at a consulting firm, even the last minute requests are wins. "Being invited in at the very end of a project is better than not being invited in at all. When they see what you can do in that last minute, they see what you are capable there and that is your wedge in the door. We make sure to say – 'Look at how much impact we can make at the last mile. Think how much different your end product would be if we started earlier.'"
In an ideal world, Jennifer explained, user experience planning comes in the very beginning. But often a large firm or AOR is thinking about scope and scope really matters. To get a UX-er on the team, you have to make a case for them and sometimes this isn't an easy conversation. It is important to continually make the case for UX and convert a lot of people to really believing in UX. "Keep being the squeaky wheel. If you believe it, advocate for it and advocate loudly."
Amber then chimed in – "Spread the UX gospel!" And don't forget, "a user is a user is a user. User design and experience on the backend is just as important. If the client can't update a site, it's "completely useless."
What Are the tools That You Use on a Day to Day for UX?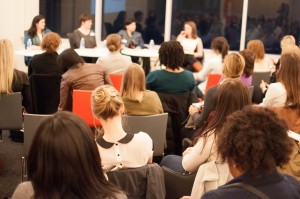 Elizabeth kicked it off with a fast and furious list of software tools, but quickly summarized, "I don't care what you use. I care about how you solve problems and how you frame them."
"What is important is effective communication, clear concept communication and validation."
Jennifer supported her sentiment – "I want you to have a point of view – a passion point of view. In strategic planning we focus on distilling very complex information for the creative teams. For a UX role, we need the same process. You need to understand the business goals. You need to know what you are designing for. And you have to be able to sell it all to the client. You have to justify the spend."
Amber jumped in next. "The best tool is your mouth and knowing when to shut up. People don't listen to their client enough. Pencil, paper, these are your best friends."
What Kind of Background Do You Need to Work in UX?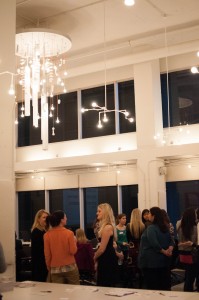 The panel agreed, UX is open to a variety of backgrounds. You can come from any field and do this successfully. Passion about human behavior, an open mind and good instinct will get you far.
The majority of candidates come from one of three buckets – psychology and social sciences backgrounds, computer science background, or graphic/visual design.
Elizabeth pointed out, "[You can] think of UX work along the continuum. Begin with user analysis, research and strategy – how we design and go to market. Then the information architects think about how it all fits together. Next up, interaction design and usability testing. Finally, the usable products and front end coding.
Most people span two to three of those continuum. No one can do all of it with any great skill. People are developing deep expertise in that work. When I hire, I look for how you can frame a problem, break it down, approach it, and talk to me about it."
But no matter where you fall on that spectrum, you must be an excellent communicator. And don't forget your portfolio.
Wrapping it up, Jennifer mused, "A lot of what we have covered will get you through recruiting for FCB. But what will get you through to the end is likability. You need to walk into that room, share your point of view, and gain consensus. This is huge."
THANKS TO OUR PANELISTS:
Jennifer Chiang: VP, Dir, Strategic Planning at FCB Chicago. A vocal consumer advocate, Jennifer leads FCB's Strategic Planning, Customer Experience group. From shifting spend on credit cards to increasing cart size in e-commerce, Jennifer leverages psychology and behavioral science insights and principles to create seamless, customer-centric experiences that drive loyalty. Follow Jennifer on Twitter @cxgeek.
Elizabeth Benker: User Experience Lead at ZS Associates, DePaul Instructor. Elizabeth is an accomplished UX Professional with nearly a decade of research and design experience. She helps teams define customer needs and craft interactive products that exceed business goals while delighting users. Follow Elizabeth on Twitter @empressgui.
Amber Vasquez: Experience Director at Mightybytes. Her day-to-day responsibilities include crafting excellent user experiences and designs for a wide range of clients in multiple sectors including B Corps, non-profits, entertainment and training. Follow Amber on Twitter @ambersiscoe.
THANKS TO OUR HOST: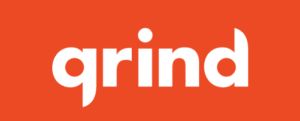 Grind was built for free radicals who would rather work in a community than a company. They are offering SheSays members a discount on a co-working space membership. Just contact Heathyr Dilts at heathyr@grindspaces.com for more information. Follow Grind on Twitter @GrindSpaces.
THANKS ALSO TO OUR SPONSOR:

FCB (Foote, Cone & Belding) is filled with a diverse and passionate group of thinkers, creators, technologists and storytellers devoted to creating buzzworthy ideas that change consumer behavior. The global, fully integrated marketing communications agency celebrates local culture, flavor and expertise market-by-market. With over 140 years of communications expertise, FCB's worldwide network spans 150 offices in 90 countries, with more than 8,000 people, and is part of the Interpublic Group of Companies (NYSE:IPG). For more information, visit www.fcb.com. Follow FCB Chicago on Twitter @CreativeFCB.
Thanks to Betsy Drach for the great photos! Follow her on Twitter @betsydrach.
Article by Sarah Hughes, SheSays team member. Follow her on Twitter @sehughes