March 11th, 2014
Chicago
Surviving as a Freelancer
Although the Polar Vortex reared its ugly head once again, about 35 women joined us at the Groupon Chicago offices for February 26th's panel on Surviving as a Freelancer. We spoke with Beckie O'Connor, Ann Hoeger, and Xenia Demo on what influenced their decision to start freelancing, how they deal with difficult clients, how they banish self-doubt, and more.
The evening kicked off with mingling accompanied by some crunchy veggies and fresh baked chocolate chip cookies, very kindly provided by the Groupon kitchens. After about a half hour of discussion, Jen Evans Lemerand kicked off the night, asking the panelists to tell us their experience with freelancing.
Despite different approaches, each woman shared similar pieces of advice for navigating client relationships, building a network, and growing as a freelancer. Whether you are getting ready to launch into the world of freelancing, or happily full time, their advice is not to be missed. As Ann and Xenia discussed, work is becoming more fluid. You might end up freelancing whether you choose to or not. Embrace it! Studies estimate that the 40% of the workforce in 2020 will be freelancers!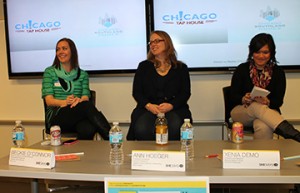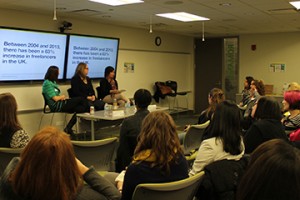 On Confidence:
"I second guess myself all the time. Don't." – Beckie
Remember the moments you say to yourself, "Don't do that again."
Get over the skill hump -> drop negative definition of what you capable of and focus on what makes you great at it.
"What motivates me is that no one can put a value to me. What I make is what I earn." – Xenia
On Finding Clients:
Get out there and market yourself – website, social media, be active, in person conversations, be prepared with business cards.
Go to events where people are not like you, where they don't share your skill set.
Narrow in on a market you want to corner. Make it your specialty. Reach out to clients within your space.
Rely on your network.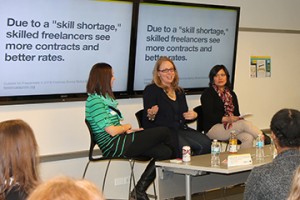 On Knowing How Much to Charge:
Give yourself raises every few years, as you grow. When you do, have an open conversation with your clients. And be ok walking away. Know that some clients are not worth it.
Own how much something costs. Be sure of your value.
Know that women typically bill out at lower rates. Don't! Do some benchmarking through AMA. Look at market rate. Talk to staffing agencies. Have an attorney look at your contract. Arm yourself with data.
Be willing to accommodate for a client when needed and it works for you, too.
On Budgeting:
Have a financial buffer. Plan for the lean times and then don't worry about it.
Keep "Screw You Money" to have the freedom to walk away.
Best Advice:
Know the limits of your skills and time. Under promise and over deliver.
Be clear in your proposal. Put in the work upfront to get it in writing and make the scope is super clear.
Find people to work with, people that you compliment, not compete with.
Outsource early and often. Get support. Have a really good pitch deck.
Pick the right clients. Get their budget and make sure it is worth your while.
Dedicate time for reading.
Gather ideas at TedX Conferences, Chicago Ideas Week. Push yourself.
Part of the beauty of freelancing is seeing what is new out there. Get a fresh set of eyes. You don't know what you don't know.
The evening ended with words of advice from Angela Vitzthum of The Creative Group on best practices for working with a recruiter. She brought three creative raffle items everyone wanted! For continuous advice follow her @WebRecruiterAng @CreativeGroup.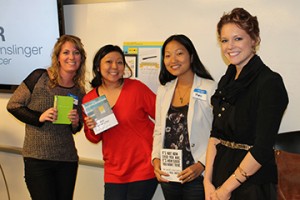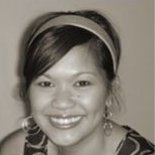 THANKS TO OUR HOST: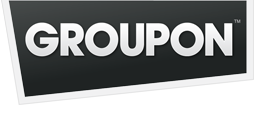 Groupon is changing local commerce on a global scale. They're also hiring.
Culturally, they believe great people make great companies and that starting with the customer and working backward moves them forward. Community matters to Groupon on an internal, local and global scale. It's fundamental to their company's growth and to the well-being of the world at large.
Article by Sarah Hughes, SheSays team member. Follow her on Twitter @sehughes.
Looking for more information on freelancing? We highly recommend the Freelancers Union blog to read about finances, etiquette, best practices and more.