July 23rd, 2014
Chicago
Be Confident & Know Your Value Recap
Sketch by Amy Reyes
On Wednesday, July 16th, the Chicago chapter of SheSays gathered at Devbridge Group to share war stories around finding confidence, knowing your value, and facing your career and personal development head on. Lead by Trina Uzee, Nancy Goldstein, Aurimas Adomavicius and Alyssa Low, the group tackled the sticky subjects of self-worth, doubt, and fear in the workplace. Our biggest takeaway? Fear and doubt are universal. What matters is how you navigate them.  However you can, find ways to trust yourself, embrace the discomfort, and grow, no matter what. Below, we've gathered some of the best insights and tips from the event to share with you!
YOU are your only real advocate.
Don't sell yourself short
Don't disqualify yourself before you give yourself a chance
 Use the rule of 30% – when facing new challenges, whether it is new business or a new role, stretch up to 30%. Conversely, if you have 70% of the required skills, go for it.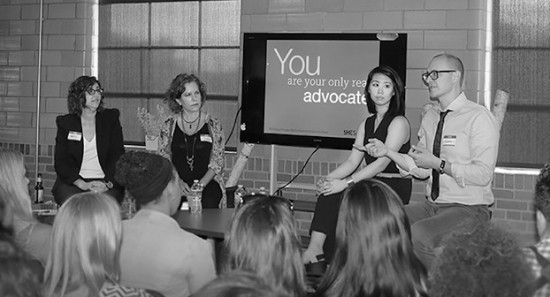 If you aren't growing, you are DYING.
It's ok to be a little afraid
Do something every day that scares you
Compliance leads to mediocrity.
We ALL wonder "Am I a poser?" "Am I good enough?"
Don't fear questions. They are a valuable tool.
If something doesn't make sense to you, question it. It's likely you are right.
When you interview, questions show you are prepared, smart and engaged.
That little voice in your head is NOT your friend.
Turn the voice around with "I am" statements – flip the switch to positivity. Talk to yourself in a good way.
Take the time to celebrate the successes, no matter how small. It'll change your perspective.
Play YOUR game. Stand Up, rather than Lean In.
Be authentic. If you can't be who you are authentically, you shouldn't be there
Ambition is what gets you there. It is so much more than the tools and skills.
Do the prep work. Know what they want and need and tailor your work to that. Show that you really care.
This ISN'T charity
In the work you do, you have a voice and you always have a choice.
When discussing cost, it's not up to you to decide what your client can or can't afford.
When negotiating salary, make sure the goals in an offer letter are reachable, tangible, and specific.
Be proactive about raises. Before you are due for an increase, have a frank conversation with your boss. Try something like, "I want my compensation to be adjusted to this level. What do I need to do to get there?"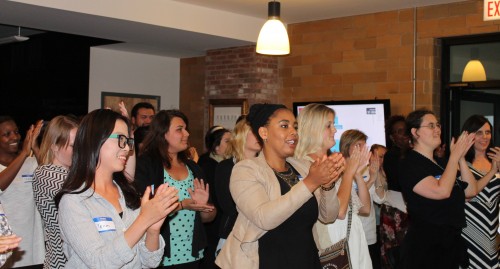 STAY IN TOUCH WITH SHESAYS CHICAGO
Loved what you read? Excited to learn more about the Chicago SheSays group? Join us at our upcoming events! Stay in the know by following us on twitter @SheSaysChicago.
Send us your panel ideas or just keep in touch by emailing us at chicago@806.ec9.mwp.accessdomain.com. We love to hear from you!
Find out more about the evening from another perspective! Devbridge's Alyssa Low and SheSays attendee Amanda Elliot both posted great recaps.
LEARN MORE ABOUT THE PANEL:
Nancy Goldstein: Chief Strategist, Compass(x) Strategy
Nancy is the founder and Chief Strategist of Compass(x) Strategy, a Chicago brand strategy firm that creates sustainable growth for passionate companies. When not trying to make business a force for good, Nancy enjoys a well-made Manhattan and all things in the Whedonverse.
Aurimas Adomavicius : President, Devbridge Group
Aurimas Adomavicius and his partners founded Devbridge Group in 2008 based on the beliefs that software should go hand in hand with intuitive and elegant User Experience. Aurimas continues to look toward the future in design and development excellence, leveraging technology to increase the value of business for Devbridge clients. When he's not in the trenches working with clients, Aurimas is an active speaker and writer on the best practices of software design and engineering.
Alyssa Low: Interactive Designer, Devbridge Group
Alyssa creates meaningful experiences for clients at Devbridge Group. However, after hours, she teeters between the digital and print realms. When she's not pixel pushing, she finds any excuse to paint cards and notes, and illustrate Kanye West's tweets.
Trina Uzee: Creative Director and Founder, The Uzee Collective
Trina is a creative director, digital trailblazer, problem solver, innovator, storyteller, speaker, entrepreneur and maker of stuff. A creative veteran, Trina has worked to pioneer digital and in-store marketing, creating award-winning solutions for brands like PepsiCo, Procter & Gamble, GlaxoSmithKline, General Mills, Merck, Kraft Foods, Whirlpool, American Airlines, eBay, Southwest Airlines and ExxonMobil.
THANK YOU TO OUR HOST & SPONSOR
Devbridge Group is an international software design and development company that builds comprehensive, custom solutions for enterprise mobile and web. We combine our engineering expertise with our elegant design aesthetic to deliver exceptional results for category leaders in manufacturing, healthcare, financial services, and franchising.
Devbridge Group produces more than 100,000 engineering hours annually building custom cloud-based and mobile solutions for mid-market and Fortune clients. Our long-term partnerships are built on trust and transparency. We follow a streamlined agile process, are committed to Responsive Design, and always pursue excellence in what we do. Interested in joining our team? We are hiring!
Post written by Sarah Hughes. You can follow her on twitter @sehughes where she muses on food, fun infographics, and the adventures of being a 20-something cat lady.