November 25th, 2015
Chicago
Who's Your Momma: Part 2
Who's Your Momma mentoring brings Chicago women a return on their creative investment.
By Erin Coleman
Our most recent Who's Your Momma mentoring event brought together a mass of creative, impassioned, and business savvy women (and men!) for a night of professional connection. Whether the topic was being the best freelancer or how to pick the right agency, our mentors and mentees had a great opportunity to share their collective experience. Who's Your Momma is all about breaking down professional barriers while creating unique spaces for discussion and inclusion, and this night was no different. When we asked our attendees about their favorite part of the event, mentee Becca McCarthy said something we loved to hear: "Does feeling loved the minute I walked through the door count?"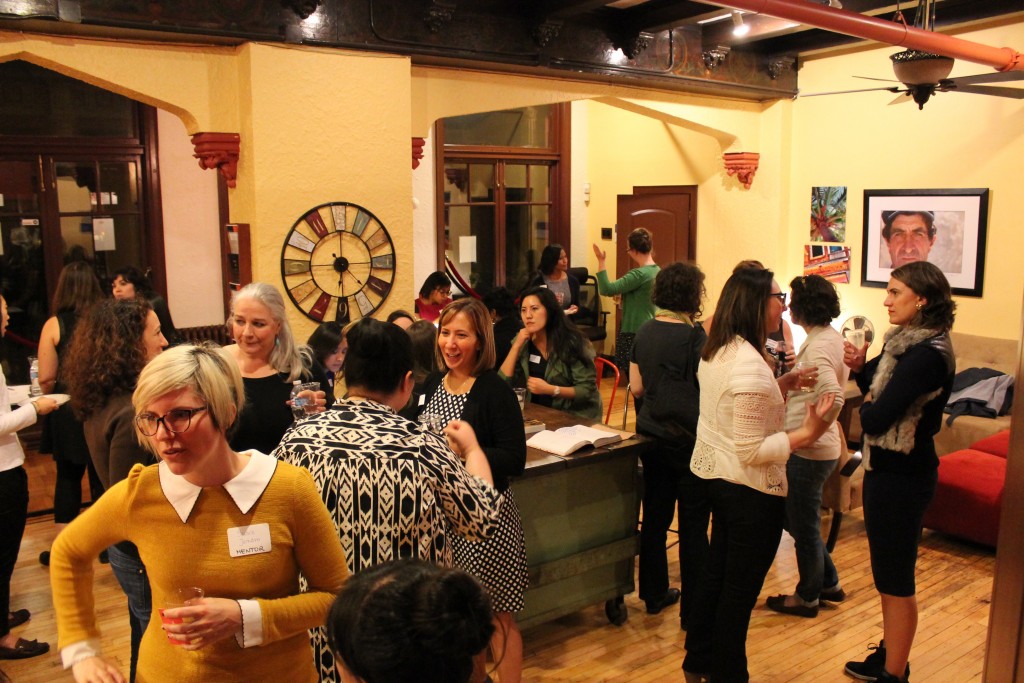 Our lovely hosts at Ascend Training welcomed us into their space, and after some mingling and snacks our ten tables got down to business. With multiple mentors at the helm, each mentee was treated to an inside look at their dream career and tips on how to work their way there. The discussions covered a slew of topics, and tackling the personal side wasn't off-limits. SheSays aims to change the ratio of women in creative, and understanding how that can be a personal challenge was mentioned at our Turning Passion Into Profit table. Lina Peinado's group understood the importance of rooting for yourself as you navigate through your career. She said, "We need to be kinder to ourselves and not be our own worst enemies. We must find a way to retrain our brains…  instead of being highly critical, to be our own best cheerleader." We couldn't agree more.
Our mentors and mentees had two hours to chat and connect at each table, but the discussion didn't end with the event. Both sides of the table took away a wealth of knowledge and insight and were enthusiastic about sharing it once they got home. Mentee Becca McCarthy felt like she hit the jackpot by attending Who's Your Momma and shared her biggest takeaways on the transition from school to career. Mentor and marketing director Ann Watson-Johnson wasn't done dishing out great advice and shared her experience and tips for your next job hunt. The power of networking can't be overstated, and we're excited that so many of our attendees wanted to keep the conversation going.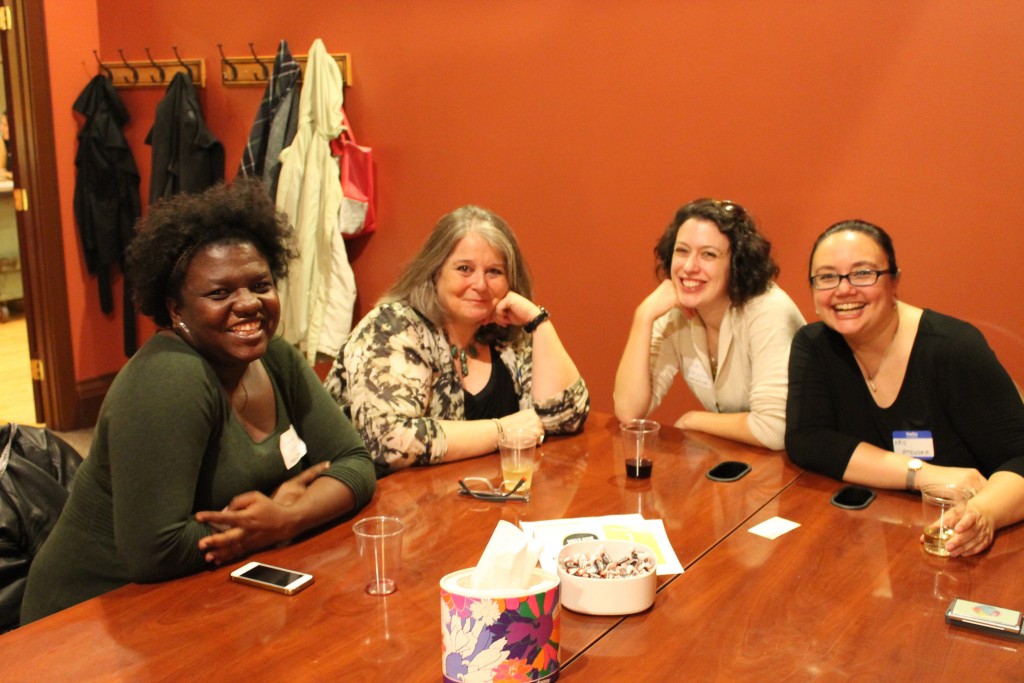 Building a network to discuss these topics doesn't have to stuffy, and we're glad we're not the only ones that think so. Mentor L'Oreal Thompson Payton said, "SheSays is the first networking group that doesn't feel like 'work'… SheSays is a community, or dare I say, a sisterhood. I've met some of the most amazing women from a variety of industries thanks to SheSays." L'Oreal wasn't the only attendee that thinks SheSays is a fresh and exciting resource for professionals.
Kris Kernstock attended the round table discussion on Big Name Agency, Small Agency or In-House Team and said "The opportunity to talk with other women at all stages of their careers is invaluable. There's a huge wealth of knowledge at these meetings! I learn something new & useful every time."
Caryn Jendro was a mentor at our Creative Director table and learned just as much from her mentees as they learned from her. She said, "As a mentor I was inspired by my mentees and fellow mentor alike. The committed round table discussion was fantastic and I was glad to have the time to invest with the women at my table."
Marisa Munoz attended the round table Developing Your Personal Brand and Why It's Important. She said, "SheSays Chicago events are meant for women from various diverse backgrounds, and ages, to come together to proactively network. The take-aways are motivating and I'm really glad I made the choice to join. The good o'le woman's intuition was right when I jumped on signing up for a SheSays Chicago event!" We're excited the SheSays group can get something great out of giving back to their creative community.
And speaking of giving back, SheSays Chicago partnered with amazing hosts Ascend Training for the event. Not only did they supply a buffet of pizza and beverages to keep us fueled during the discussions, but they also graciously raffled off a two-day class for a lucky attendee! A big thanks to Jackie White, Jori Curry and the entire Ascend Training team for supporting our mission and supplying the creative community with quality education. You're key to a creative's success.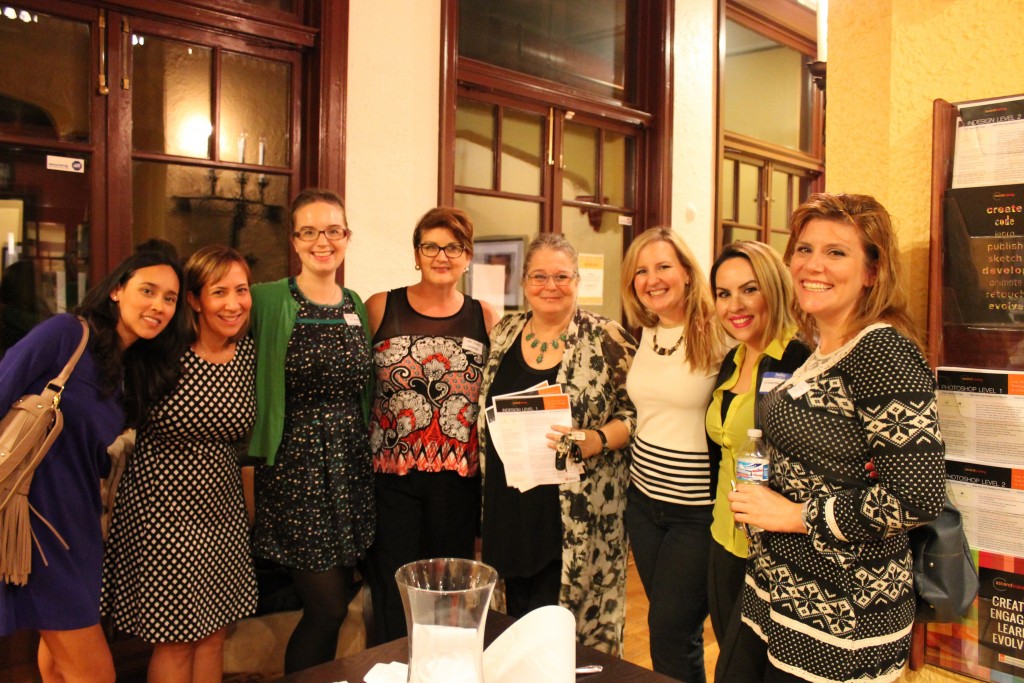 Here are a few takeaways from Who's Your Momma:
– At the end of the day you're your own advocate.
– What you daydream about is what you should be pursuing.
– Network, network, network. Even events that seem like they might be unrelated can host a treasure trove of great connections.
– Adopt a positive mantra and make it yours.
Thank you to our long list of mentors. We couldn't do this without you!
Round Table 1: Deciding to Go Big Name Agency, Small Mom & Pop or In-House?
Annie Watson-Johnson, Marketing Director at St. Benedict Prep School
Kimberly Campbell, Director of Marketing at Greenheart International
Kate Eyler-Werve, CEO at Mightybytes
Round Table 2: Going from Student to Professional
Alyssa Low, Senior Designer at Office of Experience
Sophia Savino, Designer at Sears
Jori Curry, Owner of Ascend Training & Consulting
Round Table 3: Developing Your Personal Brand and Why It's Important
Halie Braden, Brand Strategy Account Manager at Pinterest
Molly Louthan, Regional Director at Advancing Women Executives
Wanda Whitson, Certified Coach
Round Table 4: Turning a Side Hobby Into Profit
Natalie Birdsong, Entrepreneur at Natural Girl Hair Imports / Hair by Natalie B.
Susie Jendro, Technology Geek, Soap Maker at SWOON Soap
Round Table 5: Being a Better Freelancer
Mike Segawa, Principal & UX/UI designer at Segawa Communications
Brittany Campbell, Visual Designer at Groupon and Moonlighting Freelance Designer
Diana Kelter, Digital Marketing Consultant at Blair Curiosity
Round Table 6: Giving Solid Creative Direction (Targeted to senior level mentees)
Cori Donohoe, Freelance Creative Director (former CD @ DDB/Ogilvy Paris/LBi Copenhagen)
Caryn Jendro, Senior Art Director at envisionit
Round Table 7: What Does a Marketing Title Mean Today and How to Stay Relevant
L'Oreal Payton, Media Relations Manager at Girl Scouts of Greater Chicago
Molly Savage Breiner, Digital and Content Marketing Manager at Synap Software Labs
Round Table 8: How to Have a Successful Blog
Kit Graham, Blogger at The Kittchen, Co-Founder of Windy City Blogger Collective
Erin Bassett, Blogger at Color Me Styled, Co-Founder of Windy City Blogger Collective
Round Table 9: UX and UI Design – A Trending Career Path (Targeted to those interested in entering the field)
Amber Vasquez, Chief Design Officer at Mightybytes
Martin Ho, Co-Founder, UX Strategy at Traceable Change
Round Table 10: UX and UI Design – What's the Next Level for You? (Targeted to those working in the field)
Kamaria Campbell, Senior User Experience Consultant at IBM / MBA Candidate at the University of Chicago
Carolyn Chandler, ACD, User Experience at Mira Fitness, Ascend Training Instructor
If you're interested in tapping into the SheSays Chicago community for support as you build your personal brand feel free to email us at chicago@806.ec9.mwp.accessdomain.com to become a member of our unofficial "Accountability Club" which will be hosted on our private Facebook group.
The Chicago chapter is led by Jen Lemerand (@UpsideDwnGlsses), along with team leads Erin Coleman, Suzanne Cohen (@suzannecohen01), Julie Goldsberry (@julieofthewolfs) and Beckie O'Connor (@roc_onn). Tweet or follow us at @SheSaysChicago!