August 23rd, 2015
Chicago
How valuable is the brand to you?
Daliah Saper, of Saper Law, posed that question to the SheSays group during our intellectual property and copyrights event. The question may have been in reference to the importance of trademarks, but the same principle applies to educating yourself on creative ownership. For folks that aren't familiar with the ins-and-outs of copyright law, it could seem like more of a formality or even something to fear! But as members of the creative community, understanding the boundaries of work ownership and applying that in our day-to-day practice speaks volumes about the value we place on what we do. Daliah's experience stems from her extensive work with creative entrepreneurs and innovative businesses, the types of movers and shakers the SheSays group admires. Our attendees were every bit as diverse and ran the gamut from graphic design to photography and non-profits. No matter what the specific industry was, Daliah had advice for each and every one of them.
For some of us, creative property is brand new, so Daliah started with the basics. She broke down the meaning of copyrights and the exclusive ownership they give the author for any work they produce, how to have more control over use of your work through licensing or assignment, who actually owns your work while you work for an agency (it's not always you!), and how to make your work accessible to anyone that might seek it through Creative Commons. More and more of us are taking the reins and creating our own workspaces, and Daliah's advice extended beyond the office. Creatives like bloggers and other small businesses are also subject to the laws that protect what they do. If you're social media savvy, register your blog every three months through copyright.gov, and if you're going into business for the first time, protect your personal assets by becoming a business entity.
Whether you're freelance or a full time 9-5er, your work can and should be protected!
A few takeaways:
Copyrights cover anything that's original and has been fixed in tangible media (ex.: video, music, PowerPoint, websites and their HTML/CSS script, etc.)
When it comes to allowing other people to use your work, look at it like real estate: Licensing simply rents it out with multiple terms of use that YOU decide; Assignments are a deed.
If you're a W2 employee, work created at your agency within the scope of your job doesn't belong to you.
Trademark, trademark, trademark! You can simply use the trademark logo for some limited protection, but you will need a federal trademark to protect your work outside your area. If you value it, protect it.
Thank you to Daliah Saper for hosting the event and teaching our group about how to protect our intellectual property. If you are struggling with protecting your ideas, consider Saper Law, an intellectual property, social media, and business law firm with headline grabbing clients and cases.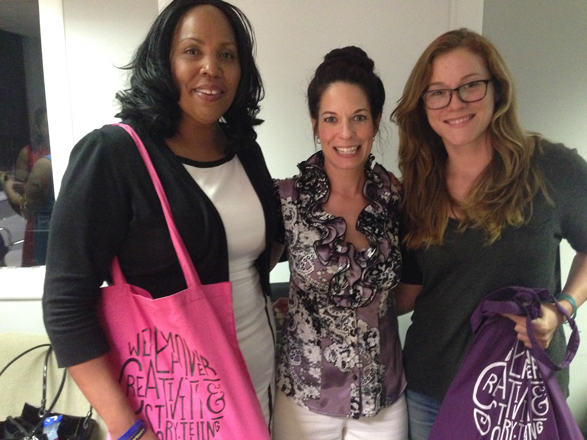 We would also like to thank Mary Ellen Jensen and Corbis Imagery for sponsoring the event, by providing delicious food and drinks! Mary Ellen connected the dots with the concept of using stock photography and the importance of copyrights. Two lucky attendees also walked away with goody bags thanks to a Corbis raffle! Contact Mary Ellen at 219-678-1360 to discuss any image, video or music licensing needs.
Article written by Erin Coleman, SheSays Chicago Committee Member.
Curious about SheSays Chicago? Contact us at chicago@806.ec9.mwp.accessdomain.com for more information about our events. We want to hear from you (How's that for networking?)! SheSays is a global, award-winning organization that helps women succeed. We run a free mentorship program and events for women in creative and marketing fields. The Chicago chapter is led by Jen Lemerand (@UpsideDwnGlsses), along with team leads Anuli Akanegbu (@anuliwashere ), Elisha-Rio Apilado (@erioapilado),Erin Coleman, Suzanne Cohen (@suzannecohen01), Julie Goldsberry (@julieofthewolfs) and Beckie O'Connor (@roc_onn). Tweet or follow us at @SheSaysChicago.