November 5th, 2014
Chicago
He Says, She Says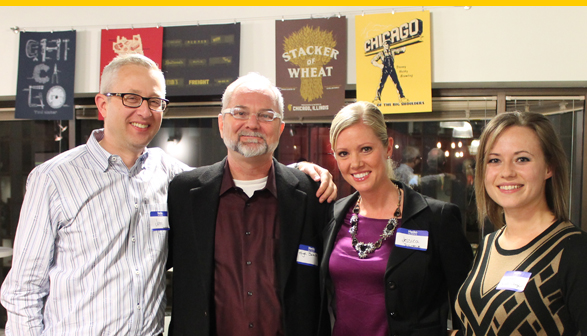 Boosting our gender intelligence quotient
By 
Suzanne Cohen
Men and women are different, but valuing, understanding and leveraging these differences is the core foundation of gender intelligence—a way of thinking that brings us closer and helps us communicate more effectively.
On October 23, SheSays Chicago attendees networked and discussed how to bridge communication gaps through gender intelligence. Thanks to our gracious host and sponsor, DigitasLBi (@digitas), for offering their space, delicious pizza and scrumptious bites. Our well-rounded panelists guided the lively discussion.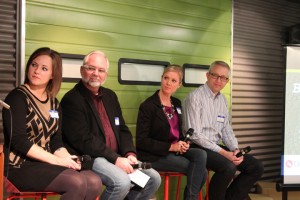 We also nod to Barbara Annis & Associates' gender intelligence online library, which guided and inspired us to explore this hot topic.
Gender Intelligence is not something arrived at by achieving a quota, ignoring or tolerating differences or becoming less authentic. It comes from understanding and appreciating the natural talents men and women bring to the table—an understanding of and an appreciation for the naturally occurring characteristics that distinguish men and women beyond the obvious biological and cultural, to include attitudinal and behavioral differences.
When we embrace gender intelligence, we learn to grasp others' ways of thinking and acting, which produces a new, powerful conversational dynamic. This synergy enables us to include each other more confidently and willingly in our interactions.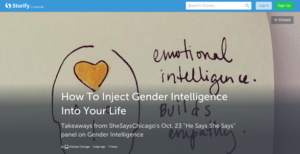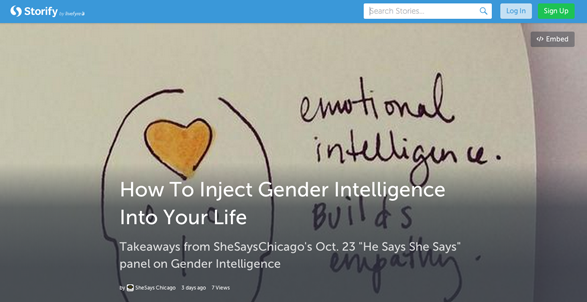 Read more audience takeaways from our event via Storify.
Key takeaways
Great minds think unalike. Then they listen.
Once we understand how and why men and women think and act, we can begin to understand gender-related tendencies and engage more effectively in the world, including in the workplace.
Emotional intelligence runs deeper than gender intelligence.
It's not male or female; it's human. Hugh added, "You have to get to understand deeper emotional issues as well." According to John, "Give everyone a chance to voice their opinions. That's where and when ideas thrive."
Emotional intelligence + empathy = gender intelligence.
Understanding gender differences starts with understanding differently, not behaving differently.
Men lean toward transactional interactions (to give something in order to receive); women tend toward interactive ones (to keep alliances and relationships vital). And women often prefer collaborative and connective teamwork, while men test and challenge each other's ideas in the pursuit of efficiency and end-goal results.
Practice gender intelligence to net results.
This sustains an inclusiveness culture that increases organizations' global competitiveness. These organizations secure and retain the best talent, make better strategic decisions, produce more relevant products and services that mirror the market, and, as a result, achieve superior financial results. John believes, "Gender intelligence has made me a better manager. Use it to ensure your teams perform better. Keep your eyes and ears open to how people communicate differently, and adapt to their style."
How can we exercise gender intelligence?
Jessica believes feedback is a two-way dialogue—Keep the door open, and lose the words, I think. Whitney agrees: "Be the person who makes other people feel understood." Hold yourself accountable. Spark these important conversations.
Finally, you may wonder how to blend variables such as race into the mix. This can be a delicate conversation, but we need to commit to having the conversation. From Hugh's perspective, "It's 2014. CEO salaries have doubled, but women are still earning low salaries. Why hasn't this changed? I'm not sure there's enough heat around the issue." Jessica agrees: "When we adjust to a male-dominated stereotype, we continue to perpetuate it."
How will you add #GenderIntelligence to your life?
Share intel with us!
Curious about SheSays Chicago? Contact us at chicago@806.ec9.mwp.accessdomain.com for more information about our events. SheSays is a global, award-winning network organization focused on the engagement, education and advancement of women in the creative industries. The Chicago chapter is led by Jen Lemerand (@UpsideDwnGlsses), along with team leads Anuli Akanegbu (@akaanuli_tweets), Ashley Charleson, Suzanne Cohen (@suzannecohen01), Julie Goldsberry (@julieofthewolfs) and Beckie O'Connor (@roc_onn). Tweet or follow us at @SheSaysChicago!