November 9th, 2017
London
10 hours for girls: SheSays & Spring
Back in May we called upon the SheSays London community to volunteer 10 hours (or whatever they could), to help our partners at SPRING (a programme that supports businesses across all sectors in bringing life-enhancing products and services to adolescent girls in South Asia and East Africa) stage an event to celebrate the International Day of the Girl (IDG).
Out of the hundreds that applied to volunteer their time, 24 were chosen based on their varying skillset and kicked started their volunteering at a two-hour action-oriented, workshop to break into teams and brainstorm how to make the event a reality.
Over the course of four months, our volunteers led the design and event management, and supported on comms and content, through regular meet ups and also working remotely over Slack. The fruits of their labour resulted in the Girls Agenda: an event hosted on IDG, 11 October, at We Are Social, with the aim to showcase innovative business solutions focusing on serving and empowering adolescent girls, and celebrate pioneering entrepreneurs, corporates and investors who believe in the power of business to tackle social issues.
The event kicked off with guests arriving to the backdrop of Michelle Obama's carefully selected playlist created specifically for the Day of the Girl. SPRING's communications manager, Aurelie Faugier welcomed everyone to the event…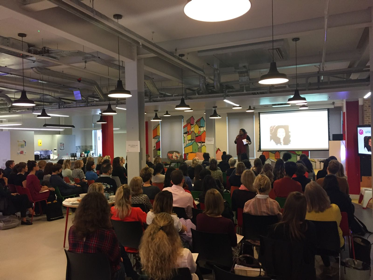 The opening keynote, delivered by badass UNICEF Innovation and Gender Technical Advisor, Fatou Wurie, delved into how important it is for us to empower girls through innovative solutions.
Founder and CEO of Abianda, a company that works with young women affected by gangs, Abi Billinghurst, spoke about how they support young women to become more professional and skilled in order to apply them to jobs in the real world. One of Abianda's teenage trainers, Monét Morgan, told her personal and powerful story of how she left gang-life and an abusive relationship with a man 18 years her senior, and how, thanks to Abianda she has developed her skills to feel more empowered and learnt how to make money legally!
Up next was Fearless Futures Founder and CEO, Hanna McCloskey, who spoke of how her company engages people in critical thought to understand and challenge the root causes of inequalities and grow powerful new ways of leading transformative change, which they do through leadership programmes for girls in schools and women and men in the workplace.
After the break we heard from Bonnie Chiu, Founder and CEO of Lensational, an award-winning social enterprise committed to sharing women's stories through the transformative power of technology. They equip marginalised women in the developing world with digital skills and photography training so that they can share their stories with the rest of the world. The photography gives women a voice and a source of strength as well as income.
Lastly, a panel, hosted by SPRING with Sophie Marple and Ursel Barnes, both seasoned social impact investors, discussed why they became investors, what causes they choose and why, and what impact their investments are having on society and the wider world.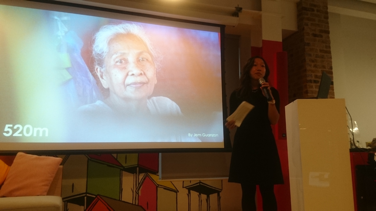 The event was wrapped up by UnLtd's Research Manager, Emily Darko, who encouraged us to dig deeper, push ourselves and others beyond our comfort zones and spread the message of female empowerment not only with those who believe in girls, but those who don't. Cheers to that!
(written by the lovely SheSays committee member Arianna Radji)
Massive thank you to our SheSays volunteers:
| | | |
| --- | --- | --- |
| Annabelle | Dewing | ODD |
| Emma | Looby | Ogilvy & Mather UK |
| Emma | Taylor | Creative Advice Network |
| Hat | Margolies | Lucid Representation Ltd |
| Kelly | Taylor | Proximity London |
| Sarah | Davis | Social Lab (Ogilvy) |
| Shannon | Pajot | Kameleon |
| Anya | Sokolskaya | Assael Interiors |
| Cleo | Fatoorehchi | BESA (British Educational Suppliers Association) |
| Irene | Calvo | Therapy |
| Katherine | Murray-Clark | Breakthrough Global |
| Kelly | Alexander | Carlson Wagonlit Travel |
| Melissa | Wusaty | Maxus Global |
| Tracey | La cour | Roar |
| Angela | Toner | The Mill |
| Christie | Doyle | House of Fraser |
| Donna | Turner | The Creative Tree |
| Katja Alissa | Mueller | cheil london |
| Kimberley | Owen | MXW Studios |
| Amanda | Ogeah | Femity |
| Gigi | Dryer | Festival Specs |
| Louise | Coates | Each London |
| Alice | Hancock | Beyond |
| Stephanie | Nattu | The Brooklyn Brothers |