Stockholm
Post Fashion Week – What responsibility does the Fashion industry have to depict our society?
Many fashion brands posted black squares this spring but post fashion week in Copenhagen and Stockholm, we still wonder how many of them are prepared to actually make a change. Brands continue to exotify and appropriate yet claim they support the BLM movement. This discussion is to let three black women active in the industry talk about their experiences, thoughts and most of all – what they think need to change within the structures for black lives to really matter in fashion. 
MODERATOR
Gillian Benneh – the host of Nea Onnim Podcast – The podcast aims to change the narrative on Africa –  from 'charity case' to showcasing the abundance and richness of African culture through the exploration of Adinkra symbols.
Gillian has been creating digital products for over 20 years. Specializing in Project Management, she has developed solutions for clients such as Nestle, IBM, Ford, Audi, BBC, and Channel 4. In 2012 Gillian relocated to the Middle East, where she worked for 7 years. Gillian is a SheSays London chapter lead and has been active on Creative Panels across Africa.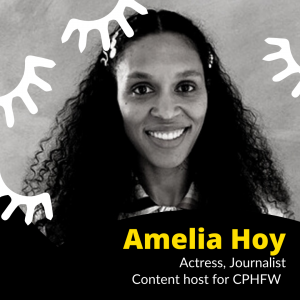 American Danish Actor Amelia Hoy graduated from the acclaimed conservation The Danish National School of Performing Arts in 2015, and now works internationally.
She is starring in the Antarctic drama series 'The Head' in 2020. Amelia has also hosted content for Copenhagen Fashion Week and Copenhagen Fashion Summit for several years, also interviewing talent, press, and international fashion professionals.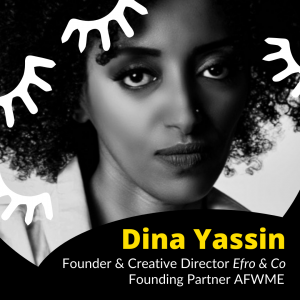 Dina Yassin, Founder & Creative Director of the recently launched Efro & Co, was born in Sudan to Eritrean parents, raised in the UAE, and lived in London & New York City.
She is also a prolific high-fashion stylist and designer whose collaborations with prominent names in the industry have led her to grace the pages of many top tier magazines such as Harper's Bazaar Art, Marie-Claire, Conde Nast Traveller, Stylist Arabia, Vogue Arabia. She has also worked on several advertorials for clients such as Van Cleef & Arpels, Piaget, Chloe, Hermès, Estée Lauder and celebrities such as Heidi Klum, Nancy Ajram, Tyson Beckford, Angie Martinez and many more.
She has worked with top creative beauty visionaries Pat McGrath, Eugene Souleiman, Josh Woods, and Eamonn Hughes to style the SS'2013 trends show where the latest technological innovation and beauty trends were shared with the global beauty influencer audience at the Shangri-la in Abu Dhabi through P&G. Photographer list includes Rankin, Guy Aroch, Anna Palma, and Chayo Mata among others. She has been an Acting Fashion & Beauty Editor and a Contributing Editor for many magazines in New York, London and Dubai.
She is also at the forefront of sustainable fashion in the Gulf region with which she adopts in her edgy venture, Efro & Co, inspired by the streetstyle and retro/vintage aspects of Africa, and whose recent collaboration was with Levi's, the Idris Foundation, Bulungi Foundation and many more. Efro & Co has been featured in Vogue Arabia for their first Ramadan Collection in 2018, "Dhahabu", as well as the team refugee t-shirt collaboration with the Idris Foundation, and in Mojeh Magazine for their collaboration with the Bulungi Foundation. Currently, she is one of the Founding Partners of Africa Fashion Week Middle East, a groundbreaking platform dedicated to exploring opportunities and promoting the creative connection between Africa and the Middle East, and most recently, she has made it on the Top 14 Global African Ascendants List by one of the most highly accredited publications in Milan, 7 Corriere. A "Jill" of all trades as she describes herself, her aesthetic is spirited, global and imbued with a unique vitality.