New York
Cocktails and Connections
This session will not be recorded so that this is a safe space. And feel free to bring a mocktail if you prefer.
We currently live in a world where many of us don't know how to manage the many emotions we are experiencing. And we just want a safe space to be able to share our mindset and get some sort of direction and support.
Because of this, we at SheSays thought we would do a community building session to allow us to express our mood through creative conversations and cocktails (or if you prefer, mocktails).
Led by Kimberly Penharlow, SheSays NY Board member and Certified Leadership & Performance Coach, we hope that we will be able to achieve the following during this session:
Focus on your now
Identify what to keep and toss
Make connections
This community building session will begin as a large group conversation leading to breakout rooms that will be managed by SheSays leads and ambassadors from New York and Boston chapters:
PLEASE BRING TO THE SESSION
A cocktail/mocktail to have on hand that best describes one of the moods below as your current mindset. In partnership with VIB Events & Custom Cocktails of Toronto, Valérie Sideco and Magda Nicola, have pulled together some recipes for you to try. There's the classic or you can opt for a more challenging/creative option. Or if you have your own, please feel free to go with that to represent your mood.

Happiness
Fear/Sadness/Exhaustion
Anger/Disgust/Frustration
Surprise

Writing utensils that make you happy (calligraphy pens, crayons, markers, etc)
Notebook or paper to write or sketch on
RESERVE YOUR SPOT TODAY
Scroll down and click on the "RSVP Here" button to register. Space is limited to 60 participants, with a waitlist of 25. If you aren't able to attend, please let us know 2 days prior via email to amanda@weareshesays.com so that we can offer your spot to someone on the waitlist.
Join us to build this community and help celebrate each other!
THE LADIES BEHIND VIB EVENTS & CUSTOM COCKTAILS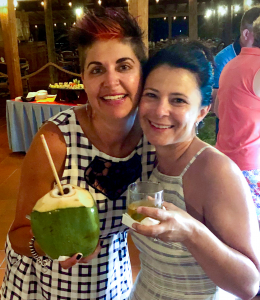 Valérie Sideco is a trained chef who spent her formative years working in fine dining establishments and events catering in her native Montreal. 11 years ago, she launched VIB Event Staffing in Toronto with her first major client, Canadian luxury department store chain, Holt Renfrew, and has since grown it into one of the leading event staffing agencies in the Greater Toronto Area. Not content to stop learning and growing, Val quietly launched a custom cocktail business three years ago. Using her "cheffy" training as a launching pad, her culinary approach to recipe development has been recognised as the unique feature that makes her stand out from the crowd.
Magda Nicola came to this business from a slightly different angle. With over 30 years in live events and loyalty marketing, coupled with a valued and enduring friendship with Val, VIB was a natural fit for career next steps. The timing was terrible, however, as the partnership was finalized just as Canada was shutting down due to COVID-19 and so Val and Magda got creative by re-working the cocktail business. They now home deliver classic and custom-made cocktails for virtual gatherings and host cocktail making seminars.
As an unexpected pivot, it has turned out to be some of the most fun they've had in business! So much so that they are planning to continue the offering as life returns to normal and are currently developing cocktail boxes for gift delivery specially for the holiday season!