April 6th, 2016
Chicago
Who's Yr Momma: SheSays Mentors on the Best Piece of Advice Ever Received
On Thursday, March 24 Ascend Training partnered with SheSays Chicago to host Who's Your Momma—a mentorship platform for women (and men) in the creative industry. We leveraged the Ascend classroom space by developing four breakout sessions based on community interest: UX Researchers and Practice, The In's and Outs of Freelancing, Life Working for a Big Agency, and Tips for Managing Your Team. Jen Lemerand and Jackie White of SheSays recruited 19 fantastic mentors with various levels of experience and fields to share their insights and stories with the 60+ attendees. We kicked off the event by asking all of our mentors to share their "best piece of advice ever received" with the full audience to encourage the mentees to later connect with mentors outside of their chosen session. Here is what these trail blazing women had to say:

"Know your worth and understand who you are to determine what works best for you. Also, be picky with your career opportunities while being sure it is financially the right thing for you at the time."
– Saadé Taylor: Freelance Creative Partner at Leo Burnett, Freelance Photographer
"Always double down on 11. And hire people that are better than you."
– Michelle Tucker: Group Creative Director, Havas
"Look within yourself to drive your individuality forward. You can do anything from the place you're at and the person you are now."
– Eileen Tjan: Principal/Creative Director, Other Studio
"Network. Network Network. Who you know is just as important as what you know. It's also very important to not be an asshole. People want to work with people that they like."
– Kelly Butler: Freelance Associate Creative Director
"Be the Doctor. I gained confidence as a creative by participating in improv classes at Second City, and a common exercise is for the teacher to give you and a partner the direction of being a doctor and a nurse. The man in the scenario is always the doctor, and the woman the nurse. When the directions were given to me, I jumped in and said 'Nurse! Hand me the scalpel!' … and owned the role of Doctor. So can you"
– Mary Olivieri: SVP, Executive Creative Director, CBD
"Look to children for inspiration. And get rid of the negative people in your life."
– Amy Spizzo: Freelance Creative Partner/Copywriter
"Don't specialize. I have heard again and again that I should find a niche and specialize and capitalize on that. Unless you want to start a big business, my recommendation is the opposite. If you're like me, you get bored easily, and you need exciting and inspiring projects, not the same thing every day for the next umpteen years. So do a little bit of everything. In my opinion, that makes for a much more versatile, and much less bored creative person. And… take lots of vacations!!"
– Julia Thiel: Founder Yoolia Design, LLC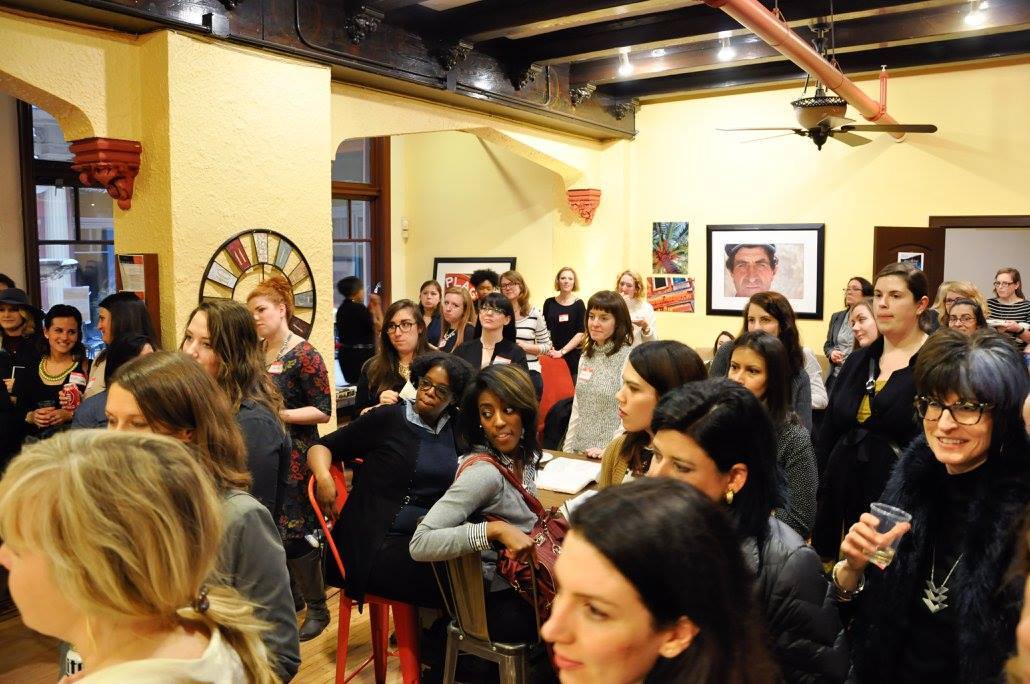 "Surround yourself with better people. I look at the people on my team and they make me a better Creative Director. In the beginning of my career it was hard to admit that I didn't have all of the answers. Give yourself the gift of curiosity and compassion."
– Melissa Healy: Group Creative Director, Frequency540
"Don't take anything personally from clients. Don't even take praise personally. It can get in your head. Stay true to who you are."
– Rose Richardson: Account Supervisor, Havas
"If something goes out in the world and it's a failure, but nobody notices… it's not a failure!"
– Noor Abdallah: Corporate Communications Specialist, Rust-Oleum
"Go see a movie. At a time when our team was slow, the creative director told me to go see a movie. Creative inspiration doesn't come from sitting behind a computer. Get out and see the world."
– Deb Pahl: Freelance ACD/CW, Tribal, DDB
"Stay true to yourself and believe in your voice. Don't downplay that."
– Kiley Coombe: UX Design Researcher, Motorola Mobility
"Surround yourself with stars who only make you look brighter. And if you're not growing, you're dying."
– Trina Uzee: Creative Director, Allstate
"Consider feedback as a gift. My first piece of constructive criticism stuck with me."
– Carolyn Chandler: ACD, User Experience at Mira Fitness, Ascend Training Instructor
"Trust our instincts. Women have power we don't always use to our advantage – your gut feeling. Trust it and go with the flow."
– Hala Hemayssi: Global Head Design & Research, Infosys Management Consulting
"Owning a business is hard. Have a "business bestie" who you can bounce ideas off. Say 'I can, and I will' to push forward."
– Ari Krzyzek: Creative Director & Designer, Chykalophia Group
"ASK. Not permission. Ask for the role you want. Ask, take it and insert yourself to make it happen."
– Ayanna Shamese: Associate Creative Director, Burrell Communications
"There's no growth in the comfort zone. I am an introvert, so speaking in front of 80 women here tonight is a challenge. But to grow, we have to look past our fears."
– Kathleen Bokar: Associate Director, Social Media, FCB
"Don't have project blinders. There is life after the project, which can be hard to remember when you're in the shit."
– Amber Vasquez: Chief Design Officer, Mightybytes
---
Thank you to these successful Chicago women for sharing their stories with our community. If you would like to join SheSays Chicago as a mentor at a future event, please email Jen Lemerand at chicago@806.ec9.mwp.accessdomain.com.
(Photo Credit: Saadé Taylor)