September 21st, 2015
Chicago
Navigating salary negotiation's slippery slope
Navigating salary negotiation's slippery slope
On September 1 in Chicago, over 75 people gathered to learn the ins and outs of salary negotiation at an event co-sponsored by General Assembly,  SheSays Chicago and United Women in Business. Bookending the After-Words Bookstore on East Illinois Street in River North, we sat in the adjoining industrial-chic event space to hear six panelists help us understand the challenges and how to navigate through successfully preparing for a job interview, negotiating compensation, asking for a raise and more.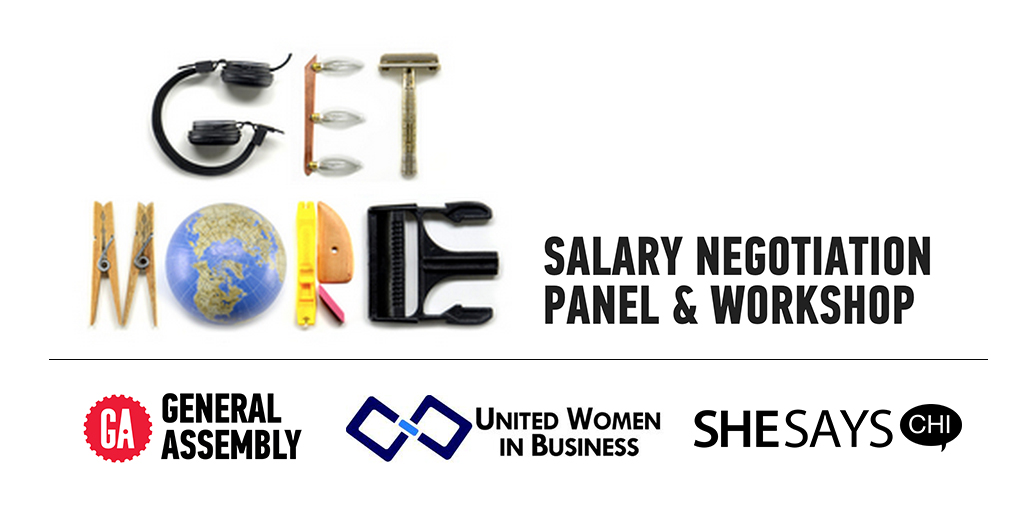 Panelists included professionals with diverse backgrounds in marketing, creative and HR arenas:
Jim Conti (Director of Talent, Sprout Social; @SproutJim)
Ann Hoeger (Freelance Strategist and CPG Executive; Founder, Savvy Women In Marketing; @annhoeger)
Dana Lopp (Value Stream Leader, Talent Management and Organization Effectiveness, Boeing)
Molly Savage (Marketing Manager, Devbridge Group, @MollyRsavs) and panel moderator
Brittani Shaw (Senior Manager, Talent and Development, Spring Rewards)
Trina Uzee (Creative Director, Allstate; @trinau)
Opportunity cost and value
Many people think salary negotiation deals mainly with numbers. While the financial component is integral to determining if a dollar amount is the right fit for you and your employer(s), there are other factors. These include: the culture and perks (e.g., vacation days, sign-on bonus, advancement opportunity, work-life balance, relocation costs, continuing education coverage, pension). These intangibles can positively offset a lower salary. If relocating, Conti suggests consulting the CNN Money calculator.
When negotiating, it's best to do so in person or on the phone, not over email. Prepare and rehearse your talking points. According to Dana Lopp, you have the most negotiating power when you start a new job (setting the stage), after you've proven your skill set and during your annual review. This is when you can emphasize how you add value to your organization.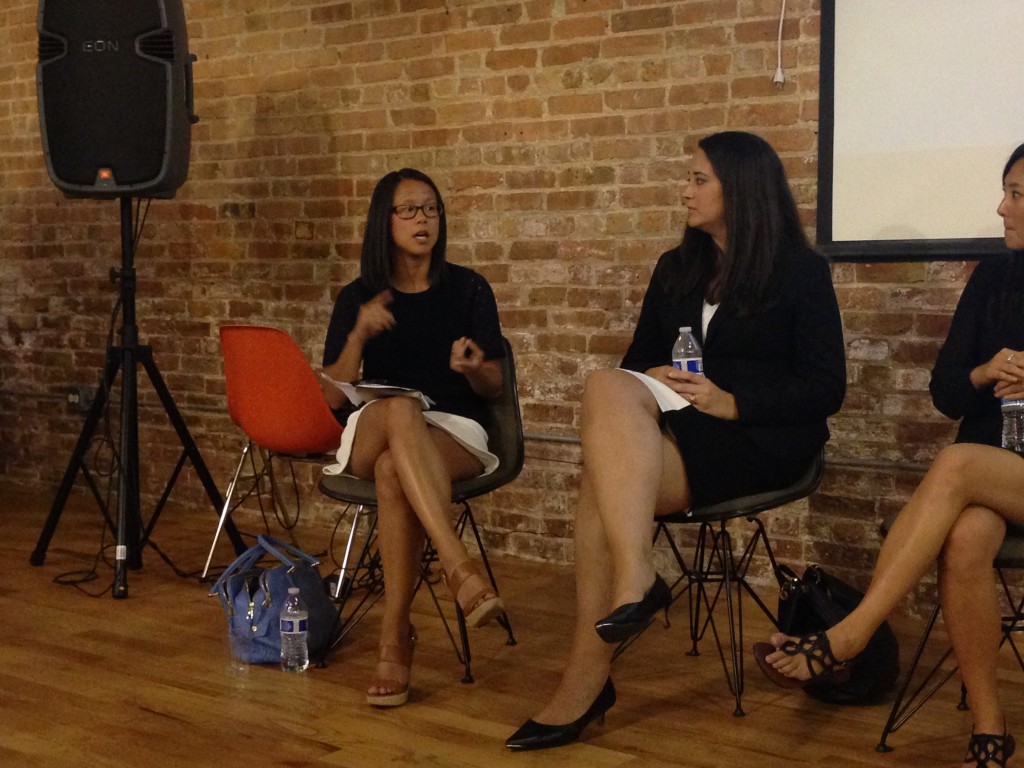 Advice that counts
Panelists explained the role of influence and persuasion in negotiating and how to use basic bargaining techniques.A few highlights:
"Go with your gut. Meet a lot of people. If you're excited, you'll be happy there. If you're not a fit now, you won't be a fit later." ~Ann Hoeger
"Before negotiating, try the Power Pose. Stand with your hands on your hips and breathe deeply for two minutes. This raises your testosterone and gives you the confidence to have the right conversation." ~Trina Uzee
"Negotiate a salary you'll be happy with in two years. You never know if a freeze or a shift in business will occur." ~Brittani Shaw
"When negotiating a salary, raise or promotion, create a case for yourself. Don't just say, "I deserve this.' Instead, phrase your ask in a way that show how you add value to the organization, e.g., I brought in xx amount of clients." ~Trina Uzee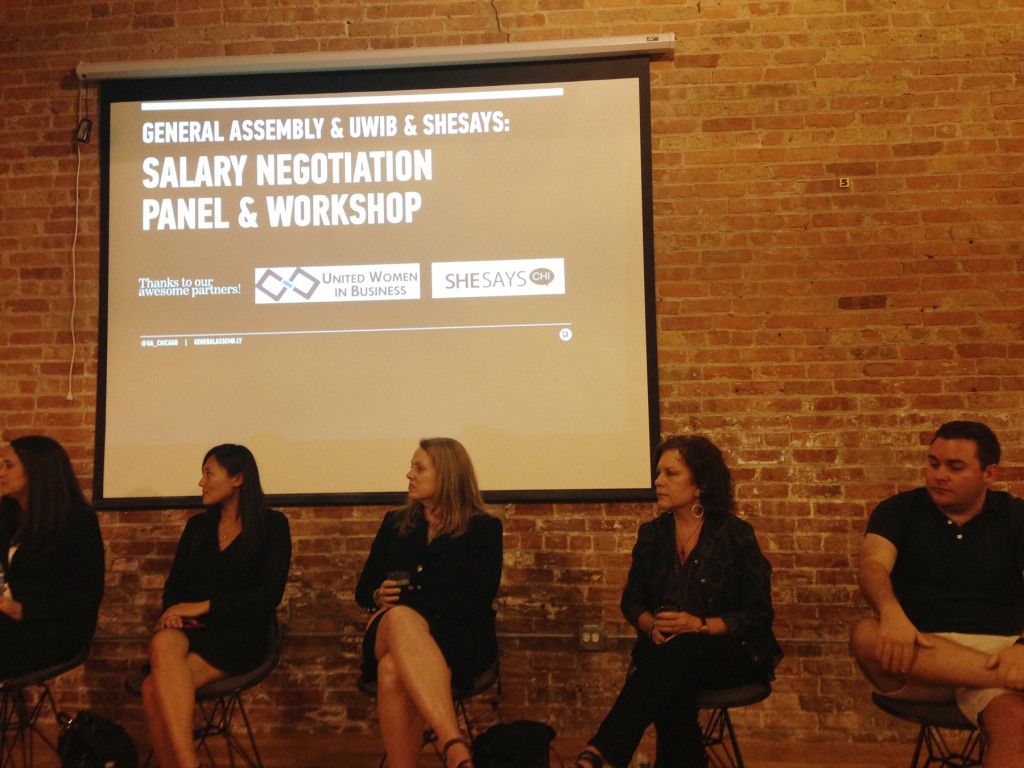 A tricky question is how to function in an organization where your manager or superior is not your advocate. Jim Conti suggests learning who their right-hand person is, and befriending him or her. Understand your organization's politics.
And, as Michael Junge writes in his book, Purple Squirrel, remember to think multiple steps ahead of your next move, knowing that in a relationship, winning the salary negotiation battle does not necessarily mean winning the career war. Employment is an ongoing series of interactions and interpersonal relationships; salary negotiation is simply one interaction among many. After it's complete, you have to live and work with the people on the other side of the equation for the foreseeable future. If one person walks away feeling like they've lost or been forced to compromise, it sets up a disempowering context for the rest of the relationship. [Thank you to edonn.com.]
After the lively discussion, attendees took advantage of individual, customized sessions with panelists.
Savvy negotiation skills provide a win-win for you and your client or employer, building a connective web between skills, needs and output. Thank you to General Assembly for providing event space, food and beverages!