USA
Learn how to be your own bank
Women are on track to retire with 32 cents to every dollar a man has. We're NOT cool with that. That's where Crissi Cole, Founder & CEO of Penny Finance, comes in. After being tired of standing on the sidelines and watching the wealth gap widening, she used her expertise and created Penny Finance: a digital financial mentor for women who want more.
More money. More freedom.
So let's celebrate Women's Day every day by investing in your wallet. It's time to #beyourownbank.
Register today for your spot in this life changing one hour workshop and as a bonus, we'll send you a promo code to get one month free subscription to Penny Finance!
About Crissi Cole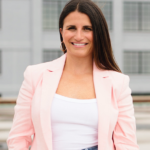 Crissi Cole is the founder & CEO of Penny Finance, an early stage fintech startup taking on the wealth gap. Crissi spent ten years working in wealth management at Goldman Sachs in New York City, where she invested ultra-high-net-worth portfolios and built trading & technology platforms. Now, Crissi is on a mission to get more women out of debt and into investing, with an accessible, affordable financial app designed intentionally for women who are pre-wealth.